I was honored to be a guest on the NICU Alumni Podcast series, and it was just in time so that I could share it during Prematurity Awareness Month!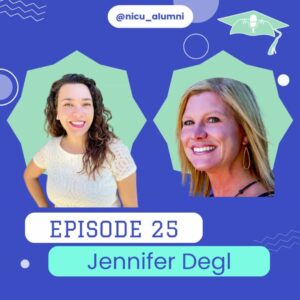 NICU Alumni was founded by Andrea Hickson, the parent of two fierce NICU grads. After bringing her little ones home, she recognized the sense of isolation and uncertainty that often accompanies this significant transition. This understanding is what fuels our mission to support families, ensuring they no longer feel overwhelmed, but instead, feel confident and hopeful as they navigate life after the NICU.
Andrea then started this podcast series to help families after they leave the NICU. She wants to make sure that parents have the support they need from home, because the truth is that there is not a lot out there for parents once they bring their NICU baby home. 
I had the pleasure of meeting Andrea in person not too long after we did our podcast recording. We both attended the NICU Parent Network Leadership Summit, in Louisville, Kentucky. She is lovely and full of energy. This woman takes care of her kids all day and then squeezes in time to record and edit her own podcast series at night. Andrea is a powerhouse and I hope to collaborate again with her in the future. Please visit the NICU Parent Network website to learn more about the work we do. I am privileged to be a member of their Executive Board of Directors and I am proud of our advocacy and policy work. 
Our podcast conversation included many topics, including:
My one-word description of coming home from the NICU: "Scary." This shouldn't be the norm! NICU Alumni is dedicated to empowering families like mine, so we feel secure and not anxious when we are discharged from the hospital.

Being your baby's primary caregiver, your focus is rarely on yourself. Recognizing your own feelings can be a challenge. What can we do about this?
Embracing peer support. Connecting with someone who understands your journey is invaluable.
As you heal, both mentally and physically, you become an even greater source of support for your precious baby.
That's it for today. 
Please take a moment to visit the NICU Alumni website at nicualumni.org – and of course don't forget to listen to our podcast episode at by clicking HERE. 
You can listen to all of the past (and future!) NICU Alumni podcasts by clicking HERE. 
Check back next week to learn more about the exciting events going on to celebrate World Prematurity Day, throughout the month of November, which is National Prematurity Awareness Month.
Thank you!