My mission is to improve the physical and emotional health of premature and medically fragile babies, and their families. I have been so blessed in my ability to do this over the last 10 years. As my family obligations grow along with my career, the time allowed to travel to conferences and hospitals has decreased, but I try my best to do this when I can. One invitation presented to me seemed like a perfect fit, and an event that I felt I could make an impact because of participating, so I accepted the invitation to speak at ECU (Eastern Carolina University) Health Medical Center at the 15th Annual Kopelman Lecture.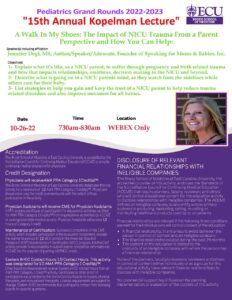 This presentation was a bit different from ones I had done in the past. First, although COVID restrictions are winding down in some aspects of life, hospitals were not so open yet. This meant that my presentation was virtual so that anyone in the hospital could see it, but I was also required to travel to North Carolina so that I could be present at a dinner reception the evening before my presentation and a lunch reception afterwards. So… I flew to North Carolina.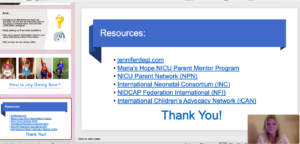 Normally I would not write about my travels and transportation, but this trip was one for the books. My flight was diverted to an airport three hours away from where I was supposed to land. This was at 1 am. The small airport we were forced to land at did not have any available flights until two days after our arrival, nor did they have any rental cars available so that we could drive the three hours to our destination. They also did not have any available cabs to take us to hotels and none of the local hotels had rooms anyway. Our entire flight was stranded, and we were told that we had to sleep on the floor of a closed (and very small) airport that only had vending machines for food. This was a conundrum for sure, but I was not about to miss my presentation and back out of my commitment to the neonatologists and nurses at ECU Health. So, what did I do? I approached a group of people who looked relatively friendly and mentally stable, and I asked them if instead of sleeping on a dirty airport floor, if they would like to find an Uber driver that would drive us 3 hours away to Greenville, NC. They agreed, and we were off. Luckily, they were all very nice people.
We arrived around 5 am and I was able to get a few hours of sleep before I had to meet the NICU Fellows for a dinner reception. The dinner was delicious, and the company was even better. I love to talk with doctors who save babies for a living, especially those who want to talk to parents like me, so that they can learn more about our perspective to better serve their families. It was a great night. One worth all of the trouble to get there.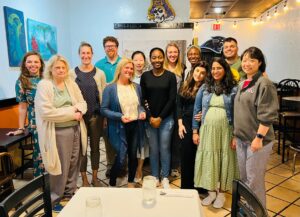 My virtual presentation went very well the following morning. I spoke for a little more than an hour and I was asked some great questions afterwards. The title of my presentation was "A Walk in My Shoes: The Impact of NICU Trauma from a Parent Perspective and How You Can Help"- and this was one of my favorite presentations yet, because of the objectives.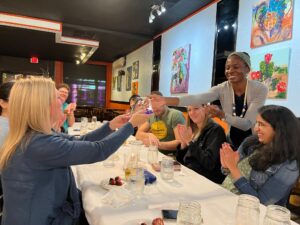 My objectives were:
Explain what it's like, as a NICU parent, to suffer through pregnancy and birth related trauma and how that impacts relationships, emotions, decision making in the NICU and beyond;

Describe what is going on in a NICU parents mind, as they watch from the sidelines while others care for their baby;

List strategies to help you gain and keep the trust of a NICU parent, to help reduce trauma related disorders, and improve outcomes for all babies.
A NICU parent perspective in all neonatal healthcare issues is critical when establishing a true family-centered unit, where parents are considered patients as well, and essential caregivers and not visitors. Even small strides in family inclusion can change the entire NICU experience for the whole family, most importantly the baby.  
I applaud the ECU neonatal team for inviting a parent speaker. Besides the opportunity to share my story and experiences with the physicians and nurses at ECU, and the wonderful dinner reception and breakfast the following day, I was also treated to a tour of their NICU. The ECU NICU is something more like a hotel. They have every possible comfort for parents. They have private rooms, shared kitchens, showers, and the rooms even have glass that can be transparent for nurses when families are not visiting and with a press of a button, turn dark so that families have privacy. The reception is always welcome when you enter the unit. All of the staff members are happy, and you can genuinely tell that they care. I would consider this NICU one of the most modern and inclusive ones I have seen yet, and I have toured many NICUs.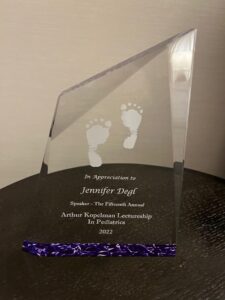 I would like to thank Dr. Uduak Akpan for the invitation and the rest of the NICU staff for being so welcoming to me. They even me an award, called the Arthur Kopelman Lectureship in Pediatrics Award, for my advocacy work in the maternal and neonatal health space. It is beautiful!
Dr. Akpan is the Quality Director, Neonatal Intensive Care Unit; Director, Neonatal Follow-Up Clinic, and an Associate Professor of Pediatrics-Neonatology at Brody School of Medicine/East Carolina University.
I thoroughly enjoyed my trip, and I am so happy that I was able to attend. 
I hope I get to visit again 🙂
Thank you for following me and for your support.